Pseudoleucite
The name pseudoleucite refers to an intergrowth of nepheline and K-feldspar within leucite crystals. Bowen and Ellestad (1937) explained the genesis of pseudoleucite, with reference to the system, nepheline-kalsilite-SiO
2
(
Fig.1
): They plotted the composition of a typical leucite with 1.5 wt% Na2O (point X). They thought that after its formation, if a leucite ofcomposition X, reacts with the liquid of composition R, it should yield a solid product of composition similar to the pseudoleucite as its composition lies close to the line XR near point Y, the ratio of the two reactants, liquid and leucite should be equal to the ratio of XY/YR. Nepheline and K-feldspar produced by the reaction should have a composition given by points U and V, respectively. If from a liquid of composition X some leucite is subtracted as cooling continues the composition of the liquid may not reach point R, but may reach either curve WR or else curve MR. If the liquid reaches WR, leucite should be transformed by reaction to K-feldspar only, and if it reaches the curve MR it would react with the liquid to form nepheline.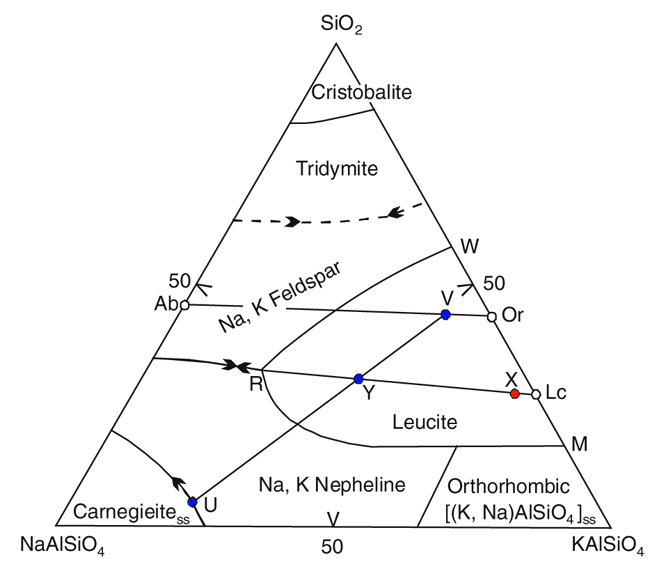 Fig.1: system nepheline-kalsilite-SiO2 (after Bowen and Ellestad 1937).
Sample kindly given to me by F.Stoppa
Bibliography
• Taylor, D., & MacKenzie, W. S. (1975). A contribution to the pseudoleucite problem. Contributions to Mineralogy and Petrology, 49(4), 321-333.
Photo

| | | |
| --- | --- | --- |
| K-feldspar-kalsilite intergrowth. Synnyrite from Synnyr pluton, Russia. XPL image, 2x (Field of view = 7mm) | K-feldspar-kalsilite intergrowth. Synnyrite from Synnyr pluton, Russia. XPL image, 2x (Field of view = 7mm) | K-feldspar-kalsilite intergrowth. Synnyrite from Synnyr pluton, Russia. XPL image, 2x (Field of view = 7mm) |
| K-feldspar-kalsilite intergrowth. Synnyrite from Synnyr pluton, Russia. XPL image, 2x (Field of view = 7mm) | K-feldspar-kalsilite intergrowth. Synnyrite from Synnyr pluton, Russia. PPL image, 2x (Field of view = 7mm) | K-feldspar-kalsilite intergrowth. Synnyrite from Synnyr pluton, Russia. XPL image, 2x (Field of view = 7mm) |
| K-feldspar-kalsilite intergrowth. Synnyrite from Synnyr pluton, Russia. XPL image, 2x (Field of view = 7mm) | K-feldspar-kalsilite intergrowth. Synnyrite from Synnyr pluton, Russia. XPL image, 2x (Field of view = 7mm) | K-feldspar-kalsilite intergrowth. Synnyrite from Synnyr pluton, Russia. XPL image, 2x (Field of view = 7mm) |
| K-feldspar-kalsilite intergrowth. Synnyrite from Synnyr pluton, Russia. XPL image, 2x (Field of view = 7mm) | K-feldspar-kalsilite intergrowth. Synnyrite from Synnyr pluton, Russia. XPL image, 2x (Field of view = 7mm) | K-feldspar-kalsilite intergrowth. Synnyrite from Synnyr pluton, Russia. XPL image, 2x (Field of view = 7mm) |
| K-feldspar-kalsilite intergrowth. Synnyrite from Synnyr pluton, Russia. XPL image, 2x (Field of view = 7mm) | K-feldspar-kalsilite intergrowth. Synnyrite from Synnyr pluton, Russia. XPL image, 2x (Field of view = 7mm) | K-feldspar-kalsilite intergrowth. Synnyrite from Synnyr pluton, Russia. XPL image, 2x (Field of view = 7mm) |
| K-feldspar-kalsilite intergrowth. Synnyrite from Synnyr pluton, Russia. XPL image, 10x (Field of view = 2mm) | K-feldspar-kalsilite intergrowth. Synnyrite from Synnyr pluton, Russia. PPL image, 10x (Field of view = 2mm) | K-feldspar-kalsilite intergrowth. Synnyrite from Synnyr pluton, Russia. XPL image, 10x (Field of view = 2mm) |
| K-feldspar-kalsilite intergrowth. Synnyrite from Synnyr pluton, Russia. XPL image, 10x (Field of view = 2mm) | K-feldspar-kalsilite intergrowth. Synnyrite from Synnyr pluton, Russia. XPL image, 10x (Field of view = 2mm) | K-feldspar-kalsilite intergrowth. Synnyrite from Synnyr pluton, Russia. XPL image, 10x (Field of view = 2mm) |
| K-feldspar-kalsilite intergrowth. Synnyrite from Synnyr pluton, Russia. XPL image, 20x (Field of view = 1mm) | K-feldspar-kalsilite intergrowth. Synnyrite from Synnyr pluton, Russia. XPL image, 20x (Field of view = 1mm) | K-feldspar-kalsilite intergrowth. Synnyrite from Synnyr pluton, Russia. XPL image, 20x (Field of view = 1mm) |
| K-feldspar-kalsilite intergrowth. Synnyrite from Synnyr pluton, Russia. XPL image, 20x (Field of view = 1mm) | K-feldspar-kalsilite intergrowth. Synnyrite from Synnyr pluton, Russia. XPL image, 20x (Field of view = 1mm) | K-feldspar-kalsilite intergrowth. Synnyrite from Synnyr pluton, Russia. XPL image, 20x (Field of view = 1mm) |
| K-feldspar-kalsilite intergrowth. Synnyrite from Synnyr pluton, Russia. XPL image, 20x (Field of view = 1mm) | K-feldspar-kalsilite intergrowth. Synnyrite from Synnyr pluton, Russia. XPL image, 20x (Field of view = 1mm) | K-feldspar-kalsilite intergrowth. Synnyrite from Synnyr pluton, Russia. XPL image, 20x (Field of view = 1mm) |
| K-feldspar-kalsilite intergrowth. Synnyrite from Synnyr pluton, Russia. XPL image, 20x (Field of view = 1mm) | K-feldspar-kalsilite intergrowth. Synnyrite from Synnyr pluton, Russia. XPL image, 20x (Field of view = 1mm) | K-feldspar-kalsilite intergrowth. Synnyrite from Synnyr pluton, Russia. XPL image, 20x (Field of view = 1mm) |
| K-feldspar-kalsilite intergrowth. Synnyrite from Synnyr pluton, Russia. XPL image, 20x (Field of view = 1mm) | K-feldspar-kalsilite intergrowth. Synnyrite from Synnyr pluton, Russia. XPL image, 20x (Field of view = 1mm) | K-feldspar-kalsilite intergrowth. Synnyrite from Synnyr pluton, Russia. XPL image, 20x (Field of view = 1mm) |