Diabase or Dolerite
Diabase or dolerite is a mafic, holocrystalline, subvolcanic rock equivalent to volcanic basalt or plutonic gabbro. Diabase dikes and sills are typically shallow intrusive bodies and often exhibit fine grained to aphanitic chilled margins which may contain tachylite (dark mafic glass). Diabase differ from gabbros chiefly in their textural characteristics and occurrence and to a lesser extent in the nature of the pyroxenes. Diabase have a ophytic texture, with slender to broad plagioclase laths wrapped or molded by anhedral to subhedral pyroxene, tha larger plates of witch may also enclose the plagioclase. In the subophytic types this relationship is less well developed.
Diabase is usually found in smaller relatively shallow intrusive bodies such as dikes, sills, sheet, laccolith and plugs Diabase dikes occur in regions of crustal extension and often occur in dike swarms of hundreds of individual dikes or sills radiating from a single volcanic center like in the karroo system in South Africa and in the pre-Cambrian areas of Montana, Wyoming and Colorado. Some of the larger sills or sheet have been differentiated in situ, mainly through crystals settling.
Thin section from Löwenburg (Siebengebirge), Germany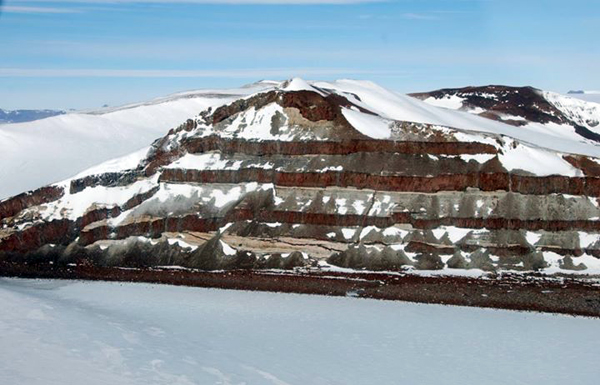 Doleritic Sills, Trio Nunatak, Antarctica. photo of: Rodolfo Carosi (University of Torino).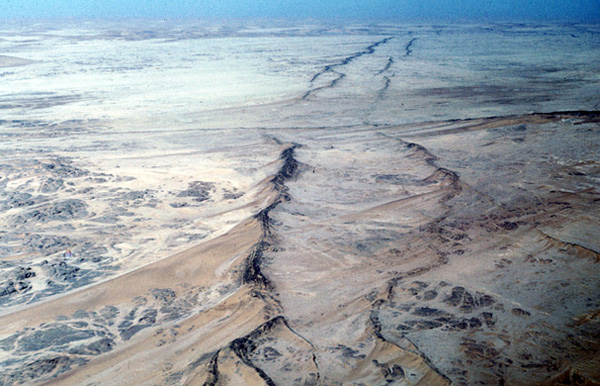 Doleritic Dyke. Pan-African Damara Sequence,Brandberg. From "university of Cape Town".
Bibliography
• Cox et al. (1979): The Interpretation of Igneous Rocks, George Allen and Unwin, London.
• Howie, R. A., Zussman, J., & Deer, W. (1992). An introduction to the rock-forming minerals (p. 696). Longman.
• Le Maitre, R. W., Streckeisen, A., Zanettin, B., Le Bas, M. J., Bonin, B., Bateman, P., & Lameyre, J. (2002). Igneous rocks. A classification and glossary of terms, 2. Cambridge University Press.
• Middlemost, E. A. (1986). Magmas and magmatic rocks: an introduction to igneous petrology.
• Shelley, D. (1993). Igneous and metamorphic rocks under the microscope: classification, textures, microstructures and mineral preferred-orientations.
• Vernon, R. H. & Clarke, G. L. (2008): Principles of Metamorphic Petrology. Cambridge University Press.
Photo

| | | |
| --- | --- | --- |
| Seriticized plagioclase and Pyroxene crystals PPL image. 2x (Field of view = 7mm) | Seriticized plagioclase and Pyroxene crystals XPL image. 2x (Field of view = 7mm) | Seriticized plagioclase and Pyroxene crystals PPL image. 2x (Field of view = 7mm) |
| Seriticized plagioclase and Pyroxene crystals. PPL image, 2x (Field of view = 7mm) | Seriticized plagioclase and Pyroxene crystals. XPL image, 2x (Field of view = 7mm) | Seriticized plagioclase and Pyroxene crystals. XPL image, 2x (Field of view = 7mm) |
| Seriticized plagioclase and Pyroxene crystals. PPL image, 2x (Field of view = 7mm) | Seriticized plagioclase and Pyroxene crystals. XPL image, 2x (Field of view = 7mm) | Seriticized plagioclase and Pyroxene crystals. PPL image, 2x (Field of view = 7mm) |
| Altered Dolerite. PPL image, 2x (Field of view = 7mm) | Seriticized plagioclase and Pyroxene crystals alterde by Tremolite. XPL image, 2x (Field of view = 7mm) | Altered Dolerite. PPL image, 2x (Field of view = 7mm) |
| Plagioclase with interstitial pyroxene. PPL image, 2x (Field of view = 7mm) | Plagioclase with interstitial pyroxene. PPL image, 2x (Field of view = 7mm) | Plagioclase with interstitial pyroxene. PPL image, 2x (Field of view = 7mm) |
| Plagioclase with interstitial pyroxene. PPL image, 2x (Field of view = 7mm) | Dendritic megnatite. PPL image, 2x (Field of view = 7mm) | Plagioclase with interstitial pyroxene. PPL image, 2x (Field of view = 7mm) |
| Coarse-grained Diabase with plagioclase and Augite. PPL image, 2x (Field of view = 7mm) | Coarse-grained Diabase with plagioclase and Augite. XPL image, 2x (Field of view = 7mm) | Coarse-grained Diabase with plagioclase and Augite. PPL image, 2x (Field of view = 7mm) |
| Coarse-grained Diabase with plagioclase and Augite. XPL image, 2x (Field of view = 7mm) | Coarse-grained Diabase with plagioclase and Augite. XPL image, 2x (Field of view = 7mm) | Coarse-grained Diabase with plagioclase and Augite. PPL image, 2x (Field of view = 7mm) |
| Coarse-grained Diabase with plagioclase and Augite. XPL image, 2x (Field of view = 7mm) | Coarse-grained Diabase with plagioclase and Augite. PPL image, 2x (Field of view = 7mm) | Coarse-grained Diabase with plagioclase and Augite. XPL image, 2x (Field of view = 7mm) |