Amygdules
Amygdules or amygdales form when the gas bubbles or vesicles are infilled with a number of different secondary mineral, depending on the groundwater chemistry and the physical conditions underground. The word is derived from the Latin ("amygdala") words for almond, reflecting the typical shape of an infilled vesicle.
Amygdules usually form after the rock has been emplaced, and are often associated with low-temperature alteration. Amygdules may often be concentrically zoned.Secondary minerals are often: chalcedony or agate, Calcite, Hematite and Zeolite. the zeolite minerals are famous for their occurrences in amygdules.
Rocks containing amygdules can be described as amygdaloidal.
some of the amygdules are stretched, not round. These started out as spherical vesicles and were deformed while the lava was still fluid. Amygdules and vesicles thus can be indicators of movement in ancient lavas.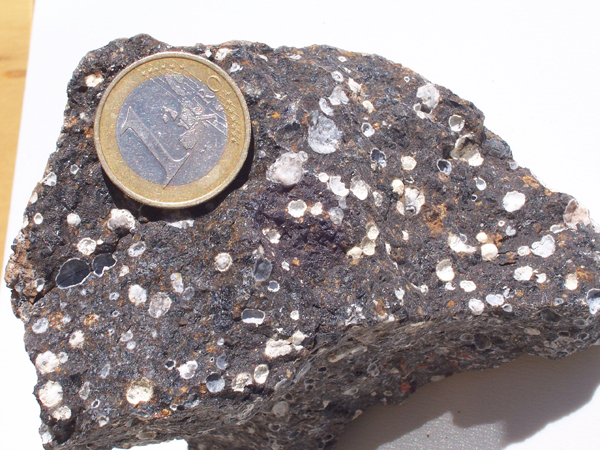 Basalt with amygdales filled by Zeolite. Kaiserstuhl (Germany).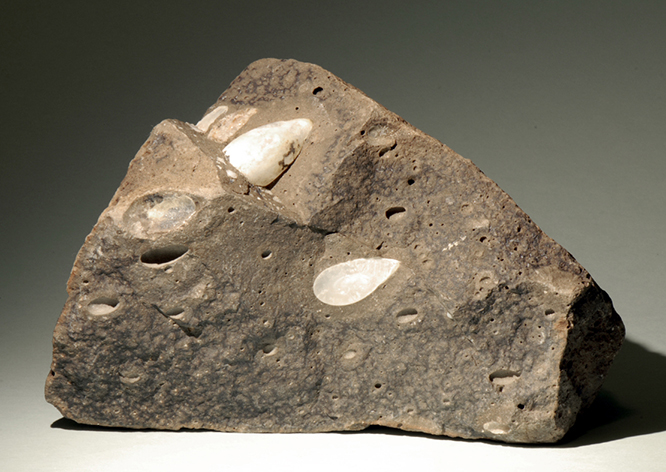 Basalt with amygdales filled by quartz (due to fluids circulation), Yavapai County, Arizona. From Natalie Teager, Arizona State University.
Bibliography
• Deer, W.A., Howie, R.A., Zussman, J. (1998) Rock-forming Minerals.
• Optical Mineralogy : The Nonopaque Minerals by Phillips / Griffen
• E. WM. Heinrich (1956): Microscopic Petrografy. Mcgraw-hill book company,inc
Photo

| | | |
| --- | --- | --- |
| chalcedony filling an amygdale. XPL image , 2x (Field of view = 7mm) | chalcedony filling an amygdales. XPL image , 2x (Field of view = 7mm) | chalcedony filling an amygdale. XPL image , 2x (Field of view = 7mm) |
| Calcite filling an amygdale. Antarctica. PPL image , 2x (Field of view = 7mm) | Calcite filling an amygdale. Antarctica. XPL image , 2x (Field of view = 7mm) | Calcite and zeolite (gray) filling an amygdale. Antarctica. XPL image , 2x (Field of view = 7mm) |
| Iron oxides filling an amygdale. Antarctica. PPL image , 10x (Field of view = 2mm) | Iron oxides filling an amygdale. Antarctica. PPL image , 10x (Field of view = 2mm) | Iron oxides filling an amygdale. Antarctica. PPL image , 10x (Field of view = 2mm) |
| Iron oxides and calcite filling amygdales. Nord Victoria Land, Antarctica. PPL image , 2x (Field of view = 7mm) | Iron oxides and calcite filling amygdales. Nord Victoria Land, Antarctica. PPL image , 2x (Field of view = 7mm) | Iron oxides and calcite filling amygdales. Nord Victoria Land, Antarctica. PPL image , 2x (Field of view = 7mm) |
| Iron oxides and calcite filling amygdales. Nord Victoria Land, Antarctica. XPL image , 2x (Field of view = 7mm) | Iron oxides and calcite filling an amygdale. Nord Victoria Land, Antarctica. PPL image , 10x (Field of view = 2mm) | Iron oxides and calcite filling an amygdale. Nord Victoria Land, Antarctica. XPL image , 10x (Field of view = 2mm) |
| Iron oxides and calcite filling an amygdale. Nord Victoria Land, Antarctica. PPL image , 10x (Field of view = 2mm) | Iron oxides and calcite filling an amygdale. Nord Victoria Land, Antarctica. PPL image , 10x (Field of view = 2mm) | Iron oxides and calcite filling an amygdale. Nord Victoria Land, Antarctica. PPL image , 10x (Field of view = 2mm) |
| Calcite filling an amygdale. XPL image , 2x (Field of view = 7mm) | Calcite filling an amygdale. XPL image , 2x (Field of view = 7mm) | Calcite filling an amygdale. XPL image , 2x (Field of view = 7mm) |
| Calcite filling amygdales. Antarctica. XPL image , 2x (Field of view = 7mm) | Calcite filling amygdales. Antarctica. XPL image , 2x (Field of view = 7mm) | Calcite filling amygdales. Antarctica. XPL image , 2x (Field of view = 7mm) |
| Calcite filling amygdales. Antarctica. XPL image , 2x (Field of view = 7mm) | Calcite filling amygdales. Antarctica. XPL image , 2x (Field of view = 7mm) | Calcite filling amygdales. Antarctica. XPL image , 2x (Field of view = 7mm) |
| Calcite filling amygdales in a Basalt. XPL image , 2x (Field of view = 7mm) | Calcite filling amygdales in a Basalt. XPL image , 2x (Field of view = 7mm) | Calcite filling amygdales in a Basalt. XPL image , 2x (Field of view = 7mm) |
| Calcite filling amygdales in a Basalt. XPL image , 2x (Field of view = 7mm) | Calcite filling amygdales in a Basalt. XPL image , 2x (Field of view = 7mm) | Calcite filling amygdales in a Basalt. XPL image , 2x (Field of view = 7mm) |
| Zeolite filling an amygdale in a Basalt. XPL image , 10x (Field of view = 2mm) | Zeolite filling an amygdale in a Basalt. XPL image , 10x (Field of view = 2mm) | Zeolite filling an amygdale in a Basalt. XPL image , 10x (Field of view = 2mm) |
| Zeolite filling an amygdale in a Basalt. XPL image , 10x (Field of view = 2mm) | Fibrous Zeolite filling an amygdale in a Limburgite (Augite-bearing Basanite) from Kaiserstuhl, Germany. PPL image , 2x (Field of view = 7mm) | Fibrous Zeolite filling an amygdale in a Limburgite (Augite-bearing Basanite) from Kaiserstuhl, Germany. XPL image , 2x (Field of view = 7mm) |
| Fibrous Zeolite filling an amygdale in a Limburgite (Augite-bearing Basanite) from Kaiserstuhl, Germany. XPL image , 10x (Field of view = 2mm) | Fibrous Zeolite filling an amygdale in a Limburgite (Augite-bearing Basanite) from Kaiserstuhl, Germany. XPL image , 10x (Field of view = 2mm) | Fibrous Zeolite filling an amygdale in a Limburgite (Augite-bearing Basanite) from Kaiserstuhl, Germany. XPL image , 10x (Field of view = 2mm) |
| Fibrous Zeolite filling an amygdale in a Limburgite (Augite-bearing Basanite) from Kaiserstuhl, Germany. XPL image , 2x (Field of view = 7mm) | Fibrous Zeolite filling an amygdale in a Limburgite (Augite-bearing Basanite) from Kaiserstuhl, Germany. PPL image , 2x (Field of view = 7mm) | Fibrous Zeolite filling an amygdale in a Limburgite (Augite-bearing Basanite) from Kaiserstuhl, Germany. XPL image , 2x (Field of view = 7mm) |
| Fibrous Zeolite filling amygdales in a Limburgite (Augite-bearing Basanite) from Kaiserstuhl, Germany. XPL image , 2x (Field of view = 7mm) | Fibrous Zeolite filling an amygdale in a Limburgite (Augite-bearing Basanite) from Kaiserstuhl, Germany. PPL image , 2x (Field of view = 7mm) | Fibrous Zeolite filling amygdales in a Limburgite (Augite-bearing Basanite) from Kaiserstuhl, Germany. XPL image , 2x (Field of view = 7mm) |
| Fibrous Zeolite filling an amygdale in a Limburgite (Augite-bearing Basanite) from Kaiserstuhl, Germany. XPL image , 2x (Field of view = 7mm) | Fibrous Zeolite filling amygdales in a Limburgite (Augite-bearing Basanite) from Kaiserstuhl, Germany. PPL image , 2x (Field of view = 7mm) | Fibrous Zeolite filling an amygdale in a Limburgite (Augite-bearing Basanite) from Kaiserstuhl, Germany. XPL image , 2x (Field of view = 7mm) |
| Fibrous Zeolite filling an amygdale in a Limburgite (Augite-bearing Basanite) from Kaiserstuhl, Germany. XPL image , 2x (Field of view = 7mm) | Fibrous Zeolite filling an amygdale in a Limburgite (Augite-bearing Basanite) from Kaiserstuhl, Germany. PPL image , 2x (Field of view = 7mm) | Calcite filling an amygdale in a Basalt. PPL image , 2x (Field of view = 7mm) |
| Calcite filling an amygdale in a Basalt. XPL image , 2x (Field of view = 7mm) | Calcite filling an amygdale in a Basalt. XPL image , 2x (Field of view = 7mm) | Calcite filling an amygdale in a Basalt. XPL image , 2x (Field of view = 7mm) |
| Calcite filling an amygdale in a Basalt. XPL image , 2x (Field of view = 7mm) | Calcite filling an amygdale in a Basalt. XPL image , 2x (Field of view = 7mm) | Calcite filling an amygdale in a Basalt. XPL image , 2x (Field of view = 7mm) |
| Calcite filling amygdales in a Basalt. XPL image , 2x (Field of view = 7mm) | Calcite filling amygdales in a Basalt. XPL image , 2x (Field of view = 7mm) | Calcite filling amygdales in a Basalt. XPL image , 2x (Field of view = 7mm) |