komatiite, Alexo (Canada)
Komatiites are rare ultramafic volcanic and subvolcanic rocks that occur, predominantly, in Archean and Paleoproterozoic greenstone belts. Komatiites were first recognized in the late 1960s in the Barberton Mountainland greenstone belt in South Africa and were named from their type locality along the Komati River.
Although the typology and classification of komatiites has been terminologically debated, komatiites are petrologically defined as ultramafic extrusive volcanic rocks, which derived from highly magnesian magmas. Their MgO contents exceed 18 wt% compared to 10 - 15 wt% for the majority of mafic rocks. From Viljoen and Viljoen (1969), they are classified in two groups, based on their composition, the basaltic komatiites (18 – 24 % MgO) and the peridotitic komatiites (> 24 % MgO). komatiites are also distinguished from other magnesium-rich rocks, such as picrites, by having spinifex texture (after an Australian spiky grass - Triodia spinifex), characterized by spectacular arrays of subparallel or randomly-oriented skeletal, platy and bladed olivine crystals set in a glassy groundmass.
Similar ultramafic lavas were soon described from other Archean and Paleoproterozoic belts particularly from Canada, Africa, Australia and Finland. Most are Neoarchean to Paleoproterozoic but extend into the Phanerozoic, including Permian–Triassic komatiites from NW Vietnam and C retaceous (90 Ma) komatiites from Gorgona Island off the coast of Columbia.
Fig.1: Proportion of KOmatiite in packages of greenstone belts as function of Age. From Condie (2001).
The predominance of komatiites in the Archean, their decreasing occurrence in the Proterozoic, and extreme rarity in the Phanerozoic have been interpreted to reflect secular cooling of the mantle (fi. 1).
Komatiites occur either as lava flows or subvolcanic bodies; rarely, they are also pyroclastic. Komatiite lavas range from thin (a few cm) to massive to thick (> 100 m) and are distinctly layered. Individual flows displaying well-developed layering show a textural division that includes an upper part (Zone A), characterized by spinifex-textured rock, and a lower part (Zone B) containing a high proportion of equant olivine crystals resembling various peridotite to dunite cumulates (Fig. 2). Both zones have been further subdivided into several subzones.
Spinifex-textured flows have a chilled flow-top (A1) containing a small proportion of solid olivine phenocrysts and a larger proportion of skeletal hopper olivine grains in an augite-glass matrix. Underlying the chilled zone is spinifex-textured lava, Ross & Hopkins (1975) recognized two zones, an upper zone (A2) containing relatively small randomly oriented chain-like crystals, and a lower zone (A3) in which larger platy crystals are arranged in intersecting, upward-pointing cones.
The lower cumulate section (B zone) of spinifex-textured flows is enriched in polyhedral or rounded or less commonly, elongate skeletal grains of olivine. The uppermost part (B1) contains hopper grains oriented rougbly parallel to the flow top. In some flows, a knobby weathering zone (B3) that contains irregular patches of pyroxene-glass matrix material occurs part way through the olivine cumulate zone, dividing it into two similarly textured divisions (B2 and B4), each of which contains polyhedral or granular olivine in a sparse Augite-glass matrix.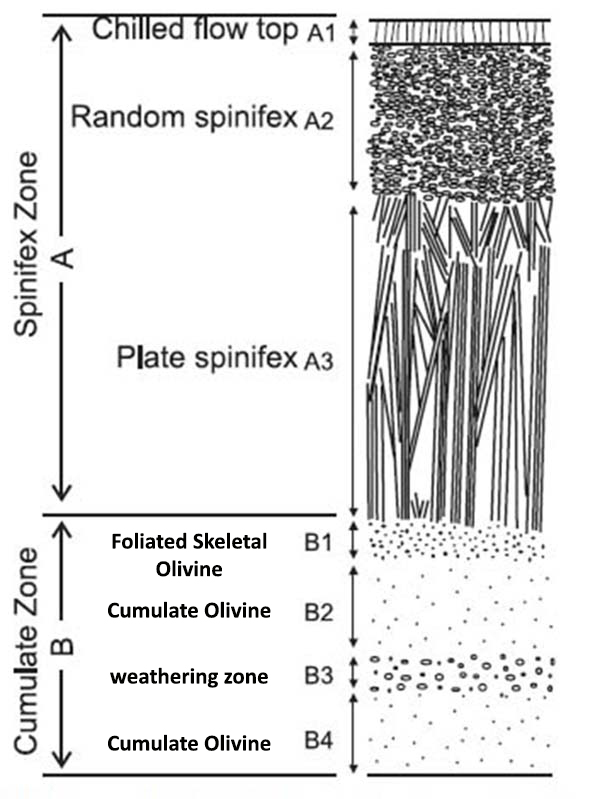 Fig.2: Textural variation in a Komatiitic Flow.
The characteristic layering of komatiite flows is produced during crystallization of ponded lava. Polyhedral olivine grains, which were present before eruption or crystallized during flowage, settle to the base of the flow or crystallize in situ to form the lower cumulate layer (Fig. 2). At the same time, the spinifex-textured upper part of the flow crystallizes through downward growth of crystals from the crust of the flow.
From the time of their discovery, there has been active debate about the melting conditions required to produce liquids of komatiitic composition. Because the MgO contents of anhydrous magmas are proportionally related to their melting temperature (higher MgO results from higher melting temperatures), komatiite melts require significantly higher temperatures than the 1250–1350°C responsible for recent MORB. Traditionally, most petrologists have accepted that during the Archean and Paleoproterozoic, komatiite melting temperatures ranged from 1600–1900°C probably at depth of 150 to 200 km by massive partial melting of the Archean mantle.
Because CaO/Al
2
O
3
is strongly pressure dependent, Herzberg (1995) used an Al
2
O
3
-CaO/Al
2
O
3
plot to estimate the depth of melting of komatiite magmas. Figure 3 shows that the Paleoarchean komatiites, which have low Al
2
O
3
and high CaO/Al
2
O
3
, were generated at depths of 300-450 km (9-14 GPa), Neoarchean komatiites from depths of 150-200 km (5-6.5 GPa), and young komatiites (< 100 Ma old) from depths of 100-130 km (3-4 GPa).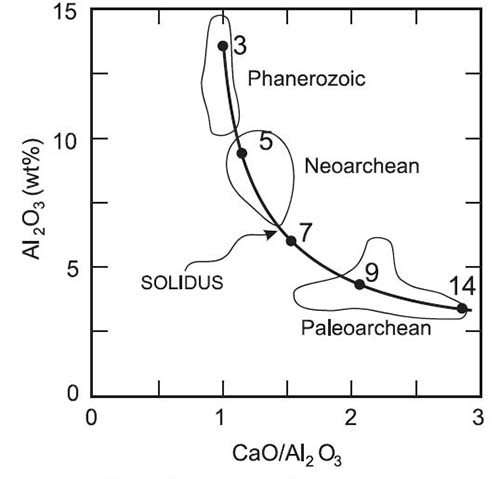 Fig.3: Al2O3-Cao/Al2O3 diagram showing the distribution of komatiites relative to the mantle solidus (heavy solid line). The komatiites are subdivided according to their age. From Herzberg (1995)
Komatiites and related rocks have been affected to variable degrees by metamorphism, hydrothermal and seafloor alteration, and deformation, which have, at least in part, obliterated the original textures and primary mineralogy. Hence, komatiites generally contain metamorphic minerals in place of their primary assemblages, relics of which may nonetheless be fortuitously preserved in some instances. Lowgrade metamorphism of komatiites produced mineral assemblages dominated by serpentine–antigorite, chlorite, talc, tremolite, magnesite - dolomite and magnetite. At higher metamorphic grades, metamorphosed komatiites contain anthophyllite, enstatite, olivine and diopside.
Alexo Komatiite
Alexo is 50 km east of Timmins, Ontario, in the Abitibi greenstone belt (Fig. 4). This belt, a major subprovince of the Archean Superior province, is a typical granite-greenstone terrane comprising basalt-dominated supracrustal sequences intruded by granitic plutons. Rock types in the area include komatiite and basalt flows, minor felsic pillowed and fragmental volcanics, and a large ultramafic-mafic intrusion, the Dundonald Sill. Regional metamorphic grade is lower greenschist facies (Jolly, 1982).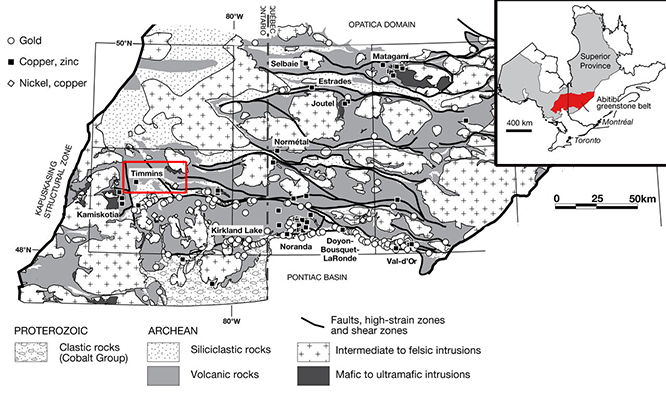 Fig.4: Abitibi Greenstone Belt Geological map.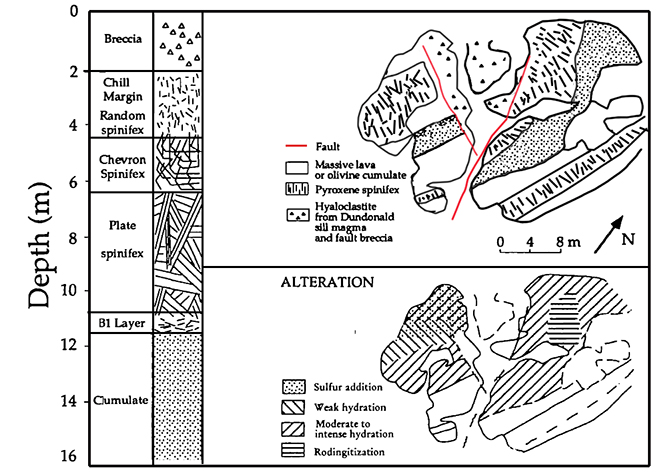 Fig.5: Schematic map of Alexo Komatiite. da Arndt (1982).
The flow is 16 m thick (Fig. 5), with an uppermost ultramafic hyaloclastite breccia (2 m thick), a thick spinifex layer (9 m), and an underlying oliv ne cumulate layer (5 m thick). Immediately below the hyaloclastite there is a thin, discontinuous chill zone. Underlying spinifex rocks vary widely in composition as a result of olivine crystallization and accumulation. The spinifex zone is subdivided in three layers:
random spinifex, chevron spinifex and plate spinifex (Fig. 5). In the lower part of the plate spinifex zone, olivine blades exceed 50 cm in length and lie in a matrix of relatively coarse, zoned, acicular grains of pigeonite-augite and plagioclase. The B1 layer, an irregular band rich in originally horizontal tabular skeletal olivine grains, lies between the spinifex and cumulate parts of the flow. The cumulate itself contains up to 80% of close-packed and overgrown, polyhedral to skeletal olivine grains, again in matrix of pyroxene and glass.
Despite a generally high level of textural and mineralogical preservation, the flow has been affected by various types of alteration which occurred at different times and affected different parts of the flow to different degrees (Fig. 5):
(1) In the flow-top breccia all phases are completely chloritized.
(2) Small amounts of sulfide have been added near the flow top; pyrite and pyrrhotite to the breccia and pentlandite and pyrrhotite to the uppermost spinifex-textured samples.
(3) The entire flow has been hydrated, a process manifested in the alteration of olivine to antigorite plus magnetite, the alteration of pyroxene to tremolite, and the transformation of glass to an assemblage of fine-grained chlorite and titanite.
(4) The lower part of the spinifex layer and the B1 layer in the eastern part of the outcrop (Fig. 2) are rodingitized. In this type of alteration, olivine is completely replaced by chlorite in spinifex lavas or by an assemblage of chrysotile plus brucite and magnetite in the cumulate layer.
Sample kindly given to me by Michael C. Lesher (Laurentian University, Canada).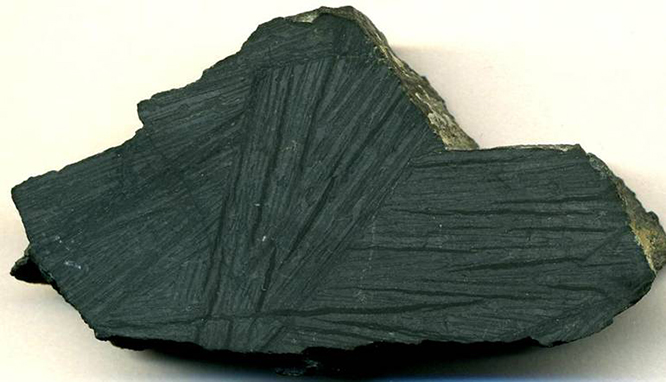 Fig.6: Komatiite from Komati river (Africa). Note the Spinifex Texture. From James St. John.
Fig.7: Spinifex Texture in a komatiite Sample from Munro, Canada. From Nick Arndt.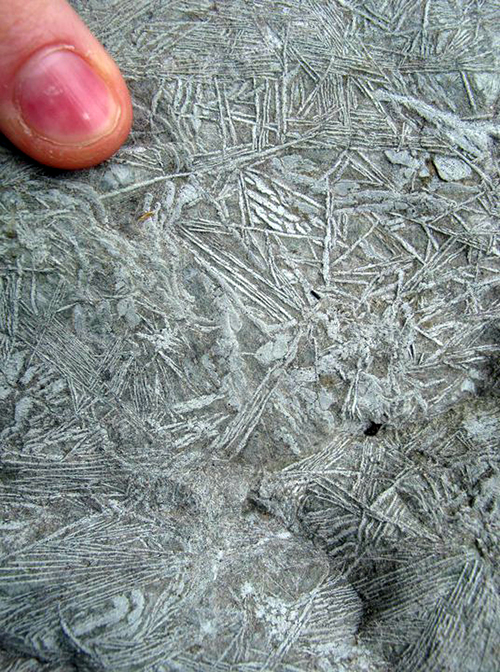 Fig.8: Spinifex Texture in a komatiite Sample from Abitibi Greenstone Belt. From Ryan Anderson.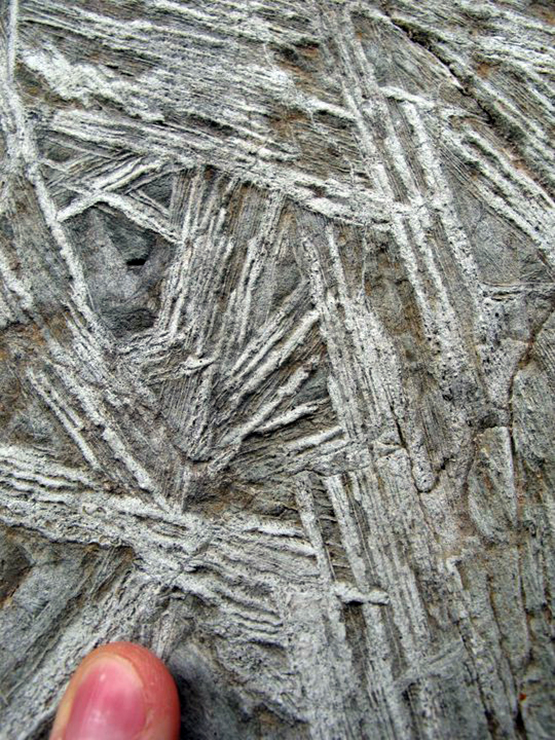 Fig.9: Spinifex Texture in a komatiite Sample from Abitibi Greenstone Belt. From Ryan Anderson.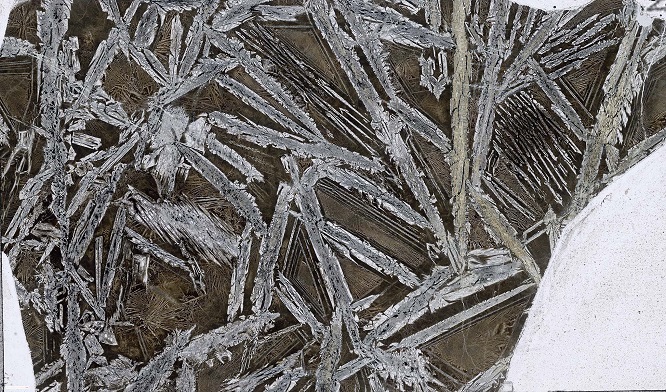 Panoramic view of Komatiite thin section from Alexo, Canada. Image by Andy Tindle (Virtual Microscope). PPL image, field of view = 2.5cm.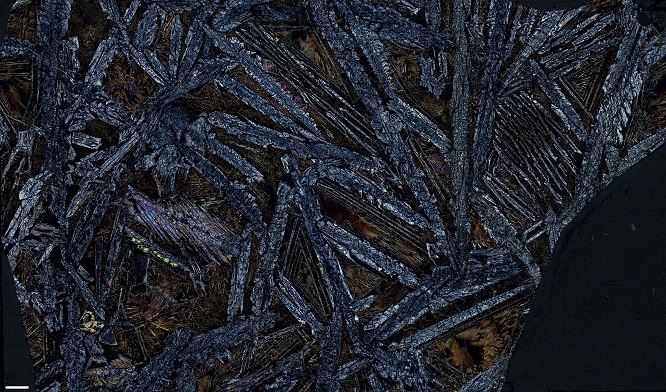 Panoramic view of Komatiite thin section from Alexo, Canada. Image by Andy Tindle (Virtual Microscope). XPL image, field of view = 2.5cm.
Bibliography
• Arndt, N.T. and Fowler, A.D. 2004. Textures in komatiites and variolitic basalts. In: The PreCambrian Earth: Tempos and Events. Pat Eriksson, Wlady Altermann, David Nelson, Wulf Muller, and Octavian Catuneanu (eds.). Developments in Precambrian Geology 12.
• Dann, J.C ., 2001, Vesicular komatiites, 3.5-Ga Komati Formation, Barberton Greenstone Belt, South Africa: Inflation of submarine lavas and origin of spinifex zones: Bulletin of Volcanology, v. 63, p. 462-481.
• Lahaye, Y., and Arndt, T.N., 1996, Alteration of a komatiite flow from Alexo, Ontario, Canada: Journal of Petrology, v. 37, p. 1261-1284.
• Lesher, C.M. (1999). Komatiitic Peridotite-Hosted Fe-Ni-Cu-(PGE) Sulphide Deposits in the Raglan Area, Cape Smith Belt, New Québec . Guidebook Series, v. 2. Mineral Exploration Research Centre. Sudbury: Laurentian University, 177-184.
Photo

| | | |
| --- | --- | --- |
| Skeletal olivine crystals (Serpentinized) in a groundmass of skeletal Pyroxenes. Alexo Komatiite, Canada. PPL image, 1x (Field of view = 9mm) | Skeletal olivine crystals (Serpentinized) in a groundmass of skeletal Pyroxenes. Alexo Komatiite, Canada. PPL image, 1x (Field of view = 9mm) | Skeletal olivine crystals (Serpentinized) in a groundmass of skeletal Pyroxenes. Alexo Komatiite, Canada. PPL image, 1x (Field of view = 9mm) |
| Skeletal olivine crystals (Serpentinized) in a groundmass of skeletal Pyroxenes. Alexo Komatiite, Canada. PPL image, 1x (Field of view = 9mm) | Skeletal olivine crystals (Serpentinized) in a groundmass of skeletal Pyroxenes. Alexo Komatiite, Canada. PPL image, 1x (Field of view = 9mm) | Skeletal olivine crystals (Serpentinized) in a groundmass of skeletal Pyroxenes. Alexo Komatiite, Canada. PPL image, 1x (Field of view = 9mm) |
| Skeletal olivine crystals (Serpentinized) in a groundmass of skeletal Pyroxenes. Alexo Komatiite, Canada. PPL image, 1x (Field of view = 9mm) | Skeletal olivine crystals (Serpentinized) in a groundmass of skeletal Pyroxenes. Alexo Komatiite, Canada. PPL image, 1x (Field of view = 9mm) | Skeletal olivine crystals (Serpentinized) in a groundmass of skeletal Pyroxenes. Alexo Komatiite, Canada. PPL image, 1x (Field of view = 9mm) |
| Skeletal olivine crystals (Serpentinized) in a groundmass of skeletal Pyroxenes. Alexo Komatiite, Canada. PPL image, 2x (Field of view = 7mm) | Skeletal olivine crystals (Serpentinized) in a groundmass of skeletal Pyroxenes. Alexo Komatiite, Canada. XPL image, 2x (Field of view = 7mm) | Skeletal olivine crystals (Serpentinized) in a groundmass of skeletal Pyroxenes. Alexo Komatiite, Canada. PPL image, 2x (Field of view = 7mm) |
| Skeletal olivine crystals (Serpentinized) in a groundmass of skeletal Pyroxenes. Alexo Komatiite, Canada. PPL image, 2x (Field of view = 7mm) | Skeletal olivine crystals (Serpentinized) in a groundmass of skeletal Pyroxenes. Alexo Komatiite, Canada. XPL image, 2x (Field of view = 7mm) | Skeletal olivine crystals (Serpentinized), regularlyarranged, in a groundmass of skeletal Pyroxenes. Alexo Komatiite, Canada. PPL image, 2x (Field of view = 7mm) |
| Skeletal olivine crystals (Serpentinized) in a groundmass of skeletal Pyroxenes. Alexo Komatiite, Canada. PPL image, 2x (Field of view = 7mm) | Skeletal olivine crystals (Serpentinized) in a groundmass of skeletal Pyroxenes. Alexo Komatiite, Canada. PPL image, 2x (Field of view = 7mm) | Skeletal olivine crystals (Serpentinized) in a groundmass of skeletal Pyroxenes. Alexo Komatiite, Canada. PPL image, 2x (Field of view = 7mm) |
| Skeletal olivine crystals (Serpentinized) in a groundmass of skeletal Pyroxenes. Alexo Komatiite, Canada. XPL image, 2x (Field of view = 7mm) | Skeletal olivine crystals (Serpentinized) in a groundmass of skeletal Pyroxenes. Alexo Komatiite, Canada. PPL image, 2x (Field of view = 7mm) | Skeletal olivine crystals (Serpentinized) in a groundmass of skeletal Pyroxenes. Alexo Komatiite, Canada. XPL image, 2x (Field of view = 7mm) |
| Skeletal olivine crystals (Serpentinized) in a groundmass of skeletal Pyroxenes. Alexo Komatiite, Canada. PPL image, 2x (Field of view = 7mm) | Skeletal olivine crystals (Serpentinized) in a groundmass of skeletal Pyroxenes. Alexo Komatiite, Canada. PPL image, 2x (Field of view = 7mm) | Skeletal olivine crystals (Serpentinized) in a groundmass of skeletal Pyroxenes. Alexo Komatiite, Canada. XPL image, 2x (Field of view = 7mm) |
| Skeletal olivine crystals (Serpentinized) in a groundmass of skeletal Pyroxenes. Alexo Komatiite, Canada. PPL image, 2x (Field of view = 7mm) | Skeletal olivine crystals (Serpentinized) in a groundmass of skeletal Pyroxenes. Alexo Komatiite, Canada. PPL image, 2x (Field of view = 7mm) | Skeletal olivine crystals (Serpentinized) in a groundmass of skeletal Pyroxenes. Alexo Komatiite, Canada. PPL image, 2x (Field of view = 7mm) |
| Skeletal olivine crystals (Serpentinized) in a groundmass of skeletal Pyroxenes. Alexo Komatiite, Canada. PPL image, 2x (Field of view = 7mm) | Skeletal olivine crystals (Serpentinized) in a groundmass of skeletal Pyroxenes. Alexo Komatiite, Canada. XPL image, 2x (Field of view = 7mm) | Skeletal olivine crystals (Serpentinized) in a groundmass of skeletal Pyroxenes. Alexo Komatiite, Canada. PPL image, 2x (Field of view = 7mm) |
| Skeletal olivine crystals (Serpentinized) in a groundmass of skeletal Pyroxenes. Alexo Komatiite, Canada. PPL image, 2x (Field of view = 7mm) | Skeletal olivine crystals (Serpentinized) in a groundmass of skeletal Pyroxenes. Alexo Komatiite, Canada. PPL image, 2x (Field of view = 7mm) | Skeletal olivine crystals (partially Serpentinized) in a groundmass of skeletal Pyroxenes. Alexo Komatiite, Canada. PPL image, 2x (Field of view = 7mm) |
| Skeletal olivine crystals (partially Serpentinized) in a groundmass of skeletal Pyroxenes. Alexo Komatiite, Canada. XPL image, 2x (Field of view = 7mm) | Skeletal olivine crystals (partially Serpentinized) in a groundmass of skeletal Pyroxenes. Alexo Komatiite, Canada. PPL image, 2x (Field of view = 7mm) | Skeletal olivine crystals (partially Serpentinized) in a groundmass of skeletal Pyroxenes. Alexo Komatiite, Canada. XPL image, 2x (Field of view = 7mm) |
| Skeletal olivine crystals (Serpentinized) in a groundmass of skeletal Pyroxenes. Alexo Komatiite, Canada. PPL image, 2x (Field of view = 7mm) | Skeletal olivine crystals (Serpentinized) in a groundmass of skeletal Pyroxenes. Alexo Komatiite, Canada. PPL image, 2x (Field of view = 7mm) | Skeletal olivine crystals (Serpentinized) in a groundmass of skeletal Pyroxenes. Alexo Komatiite, Canada. PPL image, 2x (Field of view = 7mm) |
| Skeletal olivine crystals (partially Serpentinized) in a groundmass of skeletal Pyroxenes. Alexo Komatiite, Canada. XPL image, 2x (Field of view = 7mm) | Skeletal olivine crystals (Serpentinized) in a groundmass of skeletal Pyroxenes. Alexo Komatiite, Canada. PPL image, 2x (Field of view = 7mm) | Skeletal olivine crystals (Serpentinized) in a groundmass of skeletal Pyroxenes. Alexo Komatiite, Canada. XPL image, 2x (Field of view = 7mm) |
| Skeletal olivine crystals (Serpentinized) in a groundmass of skeletal Pyroxenes. Alexo Komatiite, Canada. PPL image, 2x (Field of view = 7mm) | Skeletal olivine crystals (Serpentinized) in a groundmass of skeletal Pyroxenes. Alexo Komatiite, Canada. XPL image, 2x (Field of view = 7mm) | Skeletal olivine crystals (Serpentinized) in a groundmass of skeletal Pyroxenes. Alexo Komatiite, Canada. PPL image, 2x (Field of view = 7mm) |
| Skeletal olivine crystals (Serpentinized) in a groundmass of skeletal Pyroxenes. Alexo Komatiite, Canada. PPL image, 2x (Field of view = 7mm) | Skeletal Pyroxenes. Alexo Komatiite, Canada. XPL image, 2x (Field of view = 7mm) | Skeletal olivine crystals (Serpentinized) in a groundmass of skeletal Pyroxenes. Alexo Komatiite, Canada. PPL image, 2x (Field of view = 7mm) |
| Plumose Skeletal Pyroxenes between olivine crystals. Alexo Komatiite, Canada. PPL image, 2x (Field of view = 7mm) | Plumose Skeletal Pyroxenes between olivine crystals. Alexo Komatiite, Canada. XPL image, 2x (Field of view = 7mm) | Skeletal olivine crystals (Serpentinized) in a groundmass of skeletal Pyroxenes. Alexo Komatiite, Canada. PPL image, 2x (Field of view = 7mm) |
| Skeletal Pyroxenes and Skeletal Magneitite. komatiite di Alexo, Canada. PPL image, 10x (Field of view = 2mm) | Skeletal Pyroxenes and Skeletal Magneitite. komatiite di Alexo, Canada. PPL image, 10x (Field of view = 2mm) | Skeletal Pyroxenes and Skeletal Magneitite. komatiite di Alexo, Canada. PPL image, 10x (Field of view = 2mm) |
| Skeletal Pyroxenes and Skeletal Magneitite. komatiite di Alexo, Canada. PPL image, 10x (Field of view = 2mm) | Skeletal Pyroxenes and Skeletal Magneitite. komatiite di Alexo, Canada. PPL image, 10x (Field of view = 2mm) | Skeletal Pyroxenes and Skeletal Magneitite. komatiite di Alexo, Canada. PPL image, 10x (Field of view = 2mm) |
| Plumose Skeletal Pyroxenes. Alexo Komatiite, Canada. PPL image, 2x (Field of view = 7mm) | Plumose Skeletal Pyroxenes. Alexo Komatiite, Canada. PPL image, 2x (Field of view = 7mm) | Plumose Skeletal Pyroxenes. Alexo Komatiite, Canada. XPL image, 2x (Field of view = 7mm) |
| Plumose Skeletal Pyroxenes. Alexo Komatiite, Canada. PPL image, 2x (Field of view = 7mm) | Plumose Skeletal Pyroxenes. Alexo Komatiite, Canada. XPL image, 2x (Field of view = 7mm) | Skeletal Pyroxenes and Skeletal Magneitite. komatiite di Alexo, Canada. PPL image, 10x (Field of view = 2mm) |
| Skeletal Pyroxenes between olivine crystals. Alexo Komatiite, Canada. PPL image, 10x (Field of view = 2mm) | Skeletal Pyroxenes between olivine crystals. Alexo Komatiite, Canada. XPL image, 10x (Field of view = 2mm) | Skeletal Pyroxene. Alexo Komatiite, Canada. PPL image, 10x (Field of view = 2mm) |
| Skeletal Olivine (spinal column). Alexo Komatiite, Canada. PPL image, 10x (Field of view = 2mm) | Skeletal Olivine (spinal column). Alexo Komatiite, Canada. XPL image, 10x (Field of view = 2mm) | Skeletal Pyroxenes between olivine crystals. Alexo Komatiite, Canada. PPL image, 10x (Field of view = 2mm) |
| Skeletal Pyroxenes between olivine crystals. Alexo Komatiite, Canada. XPL image, 10x (Field of view = 2mm) | Skeletal Pyroxenes between olivine crystals. Alexo Komatiite, Canada. XPL image, 10x (Field of view = 2mm) | Skeletal Pyroxenes between olivine crystals. Alexo Komatiite, Canada. PPL image, 10x (Field of view = 2mm) |