Obsidian
Obsidian is the result of volcanic lava coming in contact with water. Often the lava pours into a lake or ocean and is cooled quickly. This process produces a glassy texture in the resulting rock. Iron and magnesium give the obsidian a dark green to black color. Obsidian has been used by ancient people as a cutting tool, for weapons, and for ceremonial purposes and is sometimes found by archaeologists in excavations.
Obsidian is commonly found within the margins of rhyolitic lava flows known as obsidian flows, where the chemical composition (high silica content) induces a high viscosity and polymerization degree of the lava. The inhibition of atomic diffusion through this highly viscous and polymerized lava explains the lack of crystal growth. Like all glass and some other types of naturally occurring rocks, obsidian breaks with a characteristic "conchoidal" fracture. This smooth, curved type of fracture surface occurs because of the near-absence of mineral crystals in the glass. The intersections of conchoidal fracture surfaces can be sharper than a razor.
Obsidian is usually dark in color similar to mafic rocks such as basalt, obsidian's composition is extremely felsic. Obsidian consists mainly of SiO2 (silicon dioxide), usually 70% or more. Crystalline rocks with obsidian's composition include granite and rhyolite. Because obsidian is metastable at the Earth's surface (over time the glass becomes fine-grained mineral crystals), no obsidian has been found that is older than Cretaceous age.
This breakdown of obsidian is accelerated by the presence of water. Pure obsidian is usually dark in appearance, though the color varies depending on the presence of impurities. Iron and magnesium typically give the obsidian a dark brown to black color. In some stones, the inclusion of small, white, radially clustered crystals of cristobalite in the black glass produce a blotchy or snowflake pattern (snowflake obsidian). It may contain patterns of gas bubbles remaining from the lava flow, aligned along layers created as the molten rock was flowing before being cooled.
These bubbles can produce interesting effects such as a golden sheen (sheen obsidian) or an iridescent, rainbow-like sheen (rainbow obsidian).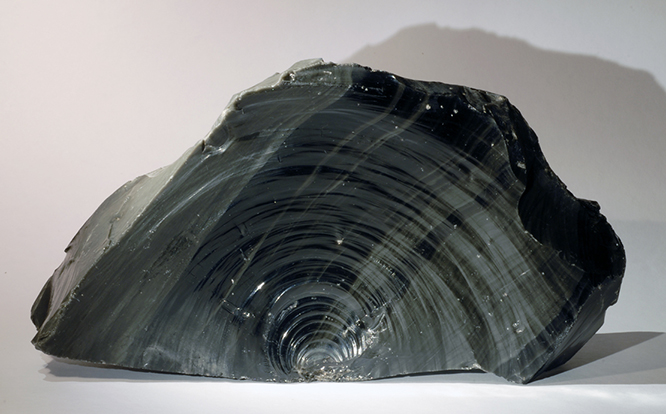 Obsidian with Conchoidal Fracture. From Natalie Teager, Arizona State University.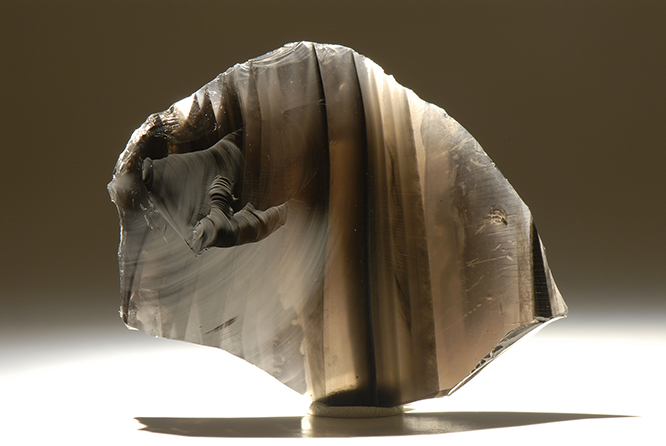 Obsidian with Flow Banding. From Natalie Teager, Arizona State University.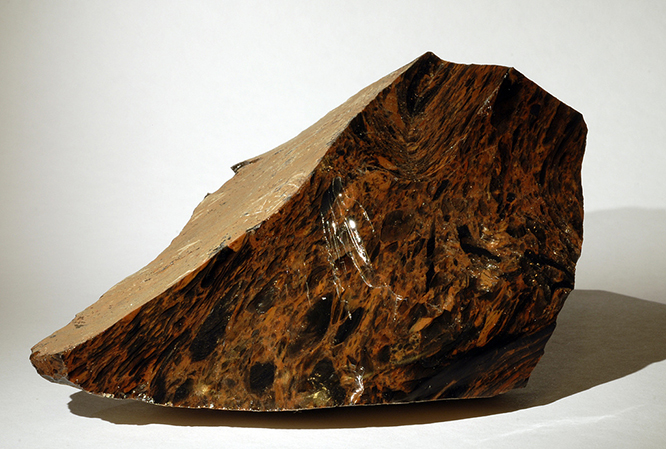 Mahogany Obsidian. From Natalie Teager, Arizona State University.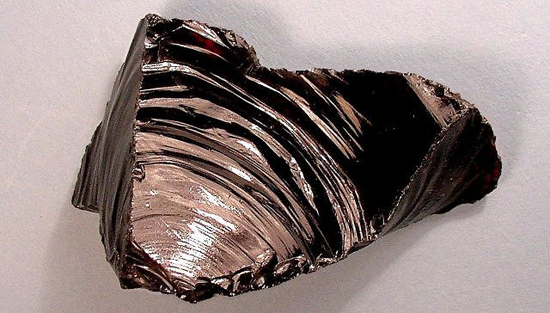 Obsidian sample. Note the conchoidal fracture. From R.Weller-Cochise College.
Bibliography
• David Shelley (1983): Igneous and metamorphic rocks under the microscope. Campman & Hall editori.
• Vernon, R. H. & Clarke, G. L. (2008): Principles of Metamorphic Petrology. Cambridge University Press
• Shelley D (1992): Igneous and Metamorphic Rocks under the Microscope: Classification, textures, microstructures and mineral preferred orientation
• Cox et al. (1979): The Interpretation of Igneous Rocks, George Allen and Unwin, London.
• Eric A.K. (1985): Middlemost Magmas and Magmatic Rocks. Longman, London
• D'Amico C., Innocenti F. & Sassi F.P. (1987): Magmatismo e metamorfismo. UTET
• Innocenti F., Rocchi S. & Triglia R. (1999:) La classificazione delle rocce vulcaniche e subvulcaniche: schema operativo per il progetto CARG.
• Carmichael I.S.E., Turner F.J. & Verghoogen J. (1974): Igneous Petrology. McGraw-Hill.
Photo

| | | |
| --- | --- | --- |
| Magmatic flow (due to the alignment of small crystallites) in a obsidian. PPL image, 2x (Field of view = 7mm) | Concentric cracks (Perlite) in a obsidian. PPL image, 10x (Field of view = 2mm) | Concentric cracks (Perlite) in a obsidian. PPL image, 10x (Field of view = 2mm) |
| Concentric cracks (Perlite) in a obsidian. PPL image, 10x (Field of view = 2mm) | Concentric cracks (Perlite) in a obsidian. PPL image, 10x (Field of view = 2mm) | Concentric cracks (Perlite) in a obsidian. PPL image, 10x (Field of view = 2mm) |
| Magmatic flow (due to the alignment of small crystallites) in a obsidian. PPL image, 2x (Field of view = 7mm) | Magmatic flow (due to the alignment of small crystallites) in a obsidian. PPL image, 2x (Field of view = 7mm) | Magmatic flow (due to the alignment of small crystallites) in a obsidian. XPL image, 2x (Field of view = 7mm) |
| Magmatic flow (due to the alignment of small crystallites) in a obsidian. PPL image, 10x (Field of view = 2mm) | Magmatic flow (due to the alignment of small crystallites) in a obsidian. PPL image, 10x (Field of view = 2mm) | Magmatic flow (due to the alignment of small crystallites) in a obsidian. XPL image, 10x (Field of view = 2mm) |
| Crystallites in the groundmass. PPL image, 20x (Field of view = 2mm) | Crystallites in the groundmass. PPL image, 20x (Field of view = 2mm) | Crystallites in the groundmass. PPL image, 20x (Field of view = 2mm) |
| Spherulites (brown) grown on plagioclase crystals in a obsidian. PPL image, 2x (Field of view = 7mm) | Spherulites (brown) grown on plagioclase crystals in a obsidian. PPL image, 2x (Field of view = 7mm) | Spherulites (brown) grown on plagioclase crystal in a obsidian. PPL image, 10x (Field of view = 2mm) |
| Spherulites (brown) grown on plagioclase crystals in a obsidian. PPL image, 10x (Field of view = 2mm) | Spherulites (brown) grown on plagioclase crystals in a obsidian. PPL image, 10x (Field of view = 2mm) | Spherulites (brown) grown on plagioclase crystals in a obsidian. PPL image, 10x (Field of view = 2mm) |
| Spherulites (brown) grown on plagioclase crystal in a obsidian. PPL image, 10x (Field of view = 2mm) | Obsidian with brecciated structure (the various fragments consist of obsidian). PPL image, 2x (Field of view = 7mm) | Obsidian with brecciated structure (the various fragments consist of obsidian). PPL image, 2x (Field of view = 7mm) |
| Obsidian with brecciated structure (the various fragments consist of obsidian). PPL image, 2x (Field of view = 7mm) | Obsidian with brecciated structure (the various fragments consist of obsidian). PPL image, 10x (Field of view = 2mm) | Obsidian with brecciated structure (the various fragments consist of obsidian). PPL image, 10x (Field of view = 2mm) |
| Feldspar crystals within a glassy, fluidal groundmass. PPL image, 1x (Field of view = 9mm) | Feldspar crystals within a glassy, fluidal groundmass. PPL image, 1x (Field of view = 9mm) | Feldspar crystals within a glassy, fluidal groundmass. PPL image, 1x (Field of view = 9mm) |
| Feldspar crystals within a glassy, fluidal groundmass. PPL image, 1x (Field of view = 9mm) | Feldspar crystals within a glassy, fluidal groundmass. PPL image, 1x (Field of view = 9mm) | Feldspar crystals within a glassy, fluidal groundmass. PPL image, 1x (Field of view = 9mm) |
| Feldspar crystals within a glassy, fluidal groundmass. PPL image, 1x (Field of view = 9mm) | Feldspar crystals within a glassy, fluidal groundmass. PPL image, 1x (Field of view = 9mm) | Feldspar crystals within a glassy, fluidal groundmass. PPL image, 1x (Field of view = 9mm) |
| Feldspar crystals within a glassy, fluidal groundmass. PPL image, 2x (Field of view = 7mm) | Feldspar crystal within a glassy, fluidal groundmass. PPL image, 2x (Field of view = 7mm) | Feldspar crystal within a glassy, fluidal groundmass. XPL image, 2x (Field of view = 7mm) |
| Feldspar and pyroxene crystals within a glassy, fluidal groundmass. PPL image, 2x (Field of view = 7mm) | Feldspar and pyroxene crystals within a glassy, fluidal groundmass. PPL image, 2x (Field of view = 7mm) | Pyroxene crystal within a glassy, fluidal groundmass. PPL image, 2x (Field of view = 7mm) |
| Feldspar crystal within a glassy, fluidal groundmass. PPL image, 2x (Field of view = 7mm) | Feldspar crystal within a glassy, fluidal groundmass. PPL image, 2x (Field of view = 7mm) | Feldspar and pyroxene crystals within a glassy, fluidal groundmass. PPL image, 2x (Field of view = 7mm) |
| Feldspar crystal within a glassy, fluidal groundmass. PPL image, 10x (Field of view = 2mm) | Feldspar crystal within a glassy, fluidal groundmass. PPL image, 10x (Field of view = 2mm) | Feldspar crystal within a glassy, fluidal groundmass. PPL image, 10x (Field of view = 2mm) |