Madupite
Lamproite is a porphyritic ultrapotassic igneous rock dominated by phlogopite, richterite, olivine, diopside, leucite, sanidine. The term Lamproite was introduced by Niggli in 1923 to describe a group of lamprphire-like rocks enriched in potassium and magnesium. The name is derived from the greek root meaning "glistering" and refers to the characteristic presence in these rocks of shiny phenocrysts of phlogopite.
The high concentration of K
2
O is usually reflected in an abundance of minerals like leucite, phlogopite, richterite and other minerals. Lamproites are ultrapotassic mantle-derived volcanic and subvolcanic rocks; They are Mg-rich igneous rocks (MgO > 5 wt %) that are peralkaline [(K
2
O + Na
2
O)/Al
2
O
3
> 1 (molar)], perpotassic [K
2
O/Al
2
O
3
> 1 (molar)] and ultrapotassic [K
2
O/Na
2
O > 3 (molar)]. They span a compositional range of 45–55 wt % SiO
2
, 4–10 wt % Al
2
O
3
, 1–5 wt % TiO
2
, 2–10 wt % CaO, 5–10 wt % K
2
O, 0.2–1.5 wt % Na
2
O and 0.5–2.0 wt % P
2
O
5
(Mitchell & Bergman, 1991). There are numerous varieties of lamproite depending on their dominant phases. The three most well-known varieties are wyomingite, dominated by diopside, leucite, and phlogopite; madupite, dominated by phenocrysts of diopside and phlogopite; and fitzroyite, dominated by leucite and phlogopite. Lamproites are found as lava flows or hypabyssal intrusions, generally pipes. Lamproites are intracontinental mantle-derived magmas related to kimberlites but unlike these rocks are not restricted to Archean cratons. The origin of lamproites is obscure, however, they probably form by partial melting of the mantle at depths of >150 km.
Lamproites, as a group, were known by a variety of localised names due to the fact their mineralogy is quite variable and because of their rarity often few examples of the following lamproite variants were known Some historical name include:
•
Fitzroyite:
(Fitzroy Basin, Australia): phlogopite, laucite lamproite.
•
Mamilite:
(Mamilu hill, Australia): diopside, leucite e richterite lamproite.
•
Orendite:
(Orenda Butte, Wyoming, USA): diopside, sanidine and phlogopite lamproite.
•
Woldigite:
(Wolgidee hill, Australia): diopside, leucite, richterite lamproite.
•
Wyomgite:
( Wyoming, USA): diopside, sanidine, phlogopite and leucite in the ground mass lamproite.
•
Madupite:
(from the shoshone word "madupa" meaning "sweetwater" and the name of the country in which the Leucite Hills are located): lamproite with diopside, Poikilitic Phlogopite and Priderite in the groundmass.
•
Jumillite:
(from the city of jumilla, Spain): enstatite and flogopite lamproite.
•
Cedricite:
(from mount Cedric, Australia): leucite and richterite lamproite.
•
Fortunite:
(from the city of Fortuna, Spain): enstatite, phlogopite and sanidine lamproite.
•
Verite:
(from the city of Vera, Almeria province, Spain): olivine, diopside and phlogopite lamproite.
•
Cancalite:
(from Cancarix locality, Spain): ortopyroxene, Phlogopite and sanidine lamproite.
Because lamproites from different parts of the Earth exhibit different and distinct mineralogies and textures, a number of diverse names have been used to classify them. Modern terminology classes all as lamproites but modifies this term with the mineral abundances: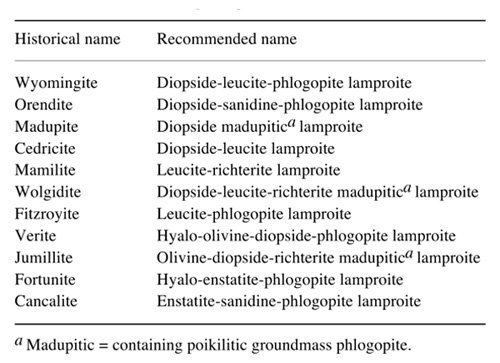 Old (right) and new (left) classification of Lamproite rocks. From Mitchell e Bergman (1991)
Leucite Hill
The Leucite Hills are locate NE of Rock Springs in Wyoming, USA. The lamproites in the Leucite Hills cut through the northern flank of the Upper Cretaceous Rock Springs Uplift and clastic sedimentary rocks.
the lamproites from the Leucite Hills can be classified into four groups:
(1) diopside–leucite-phlogopite lamproites;
(2) diopside–sanidine–phlogopite lamproites;
(3) madupitic lamproites;
(4) transitional madupitic lamproites.
The mantle source involved in generating the Leucite Hills lamproites has undergone both depletion and enrichment events. The depletion event is related to widespread Archean crustal formation that left behind a refractory, harzburgitic residue. The high Mg-number and Ni and low Al
2
O
3
and Na
2
O in the lamproites relative to many other alkaline rocks, as well as the results of high P–T phase equilibrium studies are all consistent with the involvement of a harzburgitic mantle source in the genesis of the LHL. However, the high concentration of LILE and LREE in these lamproites indicates that the depletion event was followed by pervasive metasomatism.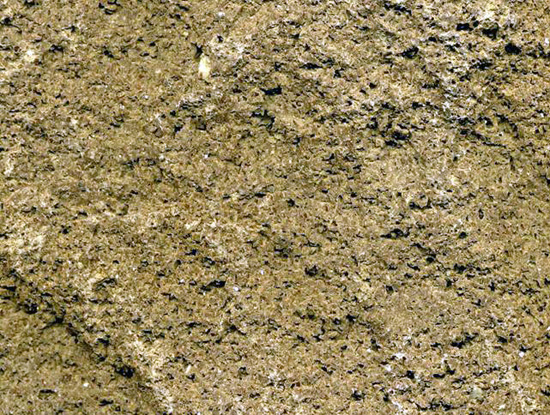 Wwyomingite sample From Leucite hills. From ames St. John.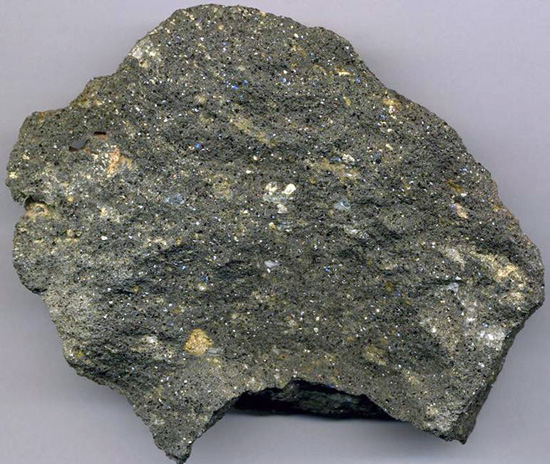 Madupite from Leucite hills. From James St. John.
Bibliography
• Carmichael I.S.E., Turner F.J. & Verghoogen J. (1974): Igneous Petrology. McGraw-Hill. • Bergman, S. C.; 1987: Lamproites and other potassium-rich igneous rocks: a review of their occurrences, mineralogy and geochemistry. In: Alkaline Igneous rocks, Fitton, J.G. and Upton, B.G.J (Eds.), Geological Society of London.
• Mitchell, R. H.; Bergman, S. C. (1991). Petrology of Lamproites.
• Woolley, A.R., Bergman, S.C., Edgar, A.D, Le Bas, M.J., Mitchell, R.H., Rock, N.M.S. & Scott Smith, B.H., 1996. Classification of lamprophyres, lamproites, kimberlites, and the kalsilitic, melilitic, and leucitic rocks. The Canadian Mineralogist, Vol 34.
Photo

| | | |
| --- | --- | --- |
| Poikilitic phlogopite crystals, dioposide and Priderite (the small brown crystals in the groundmass) in a Madupite from Leucite hills. PPL image, 2x (Field of view = 7mm) | Poikilitic phlogopite crystals and dioposide in a Madupite from Leucite hills. XPL image, 2x (Field of view = 7mm) | Poikilitic phlogopite crystals, dioposide and Priderite (the small brown crystals in the groundmass) in a Madupite from Leucite hills. PPL image, 2x (Field of view = 7mm) |
| Poikilitic phlogopite crystals and dioposide in a Madupite from Leucite hills. XPL image, 2x (Field of view = 7mm) | Poikilitic phlogopite crystal, dioposide and Priderite (the small brown crystals in the groundmass) in a Madupite from Leucite hills. PPL image, 10x (Field of view = 2mm) | Poikilitic phlogopite crystal and dioposide in a Madupite from Leucite hills. XPL image, 10x (Field of view = 2mm) |