Kimberlite, Monastery mine, Bloemfontein (S.Africa)
The Monastery kimberIite is located in the Eastern part of South Africa State, close to the border of Lesotho. After its initial discovery in 1876, mining operations did not begin until 1886, when 150.000 tonnes of Quarry Type kimberlite was mined specifically for diamonds and ilmenite (Whitelock, 1973). Geologically, the Monastery kimberlite is situated within the Kaapvaal craton along with numerous other diamond-bearing kimberlite fields. The Kaapvaal craton is composed primarily of Archean granite-greenstone belts and of sediments and volcanics of Archean and Proterozoic age.
Greenstone belts commonly crop out in the northern parts of the craton and include the Barberton Mountain land, the Murchison Range, the Pietersburg schist belt and the Sutherland Range. The kimberlite intrusion is irregular in shape with dimensions approximating 180m in length by 70m in width. Whitelock (1973) describes four kimberlite types at the Monastery mine: the East End Type, Quarry Type, Breccia Type and Fine-Grained Type.
•
The East End Type
kimberlite is located at the eastern-most tip of the intrusion and was termed the easten blow by Whiteiock (1973). This kimberlite type narrows to a dike-like structure, inclining at shallow depths.
•
The Quarry Type
kimberlite is the most abundant and most diamondiferous rock type at the Monastery mine (Whiteiock, 1973). Dolerite is found at surface exposures along the southern rim of the Quarry Type kimberlite and also occurs as xenoliths scattered throughout the intrusion.
•
The Breccia Type
kimberlite forms a column in the central region of the intrusion and has been noted by Whitelock (1973) to have a westerly dip of 70°.
A subsurface South Vent was discovered through a series of bore-holes and it is suggested by Whitetock (1973) that it may be connected to the main body of the kimberlite.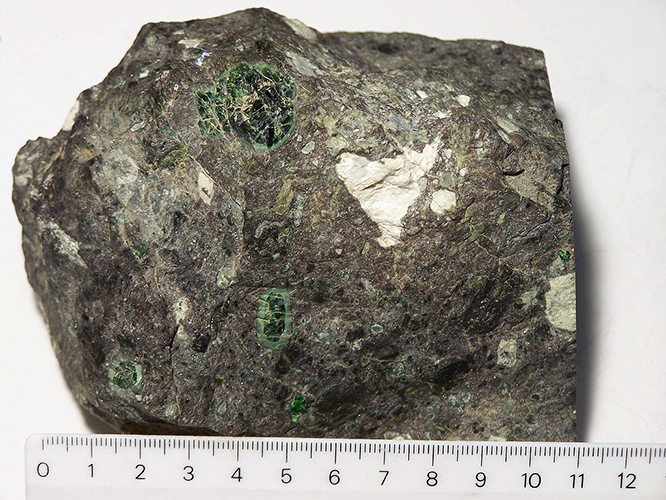 kimberlite. Note the large green Cr-diopside megacrysts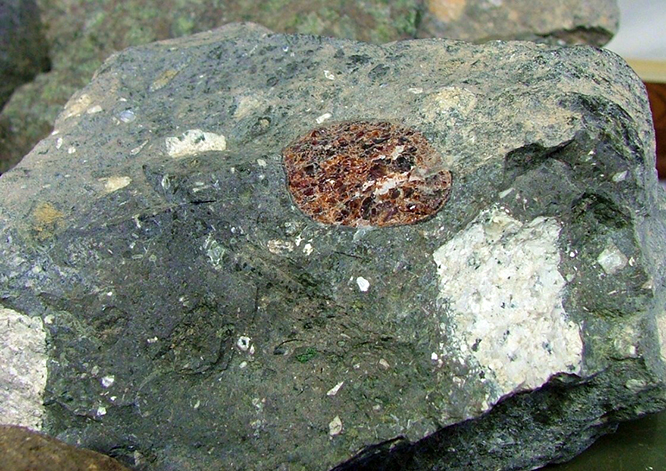 kimberlite, Sloan Ranch, Colorado. Note the large pyrope megacryst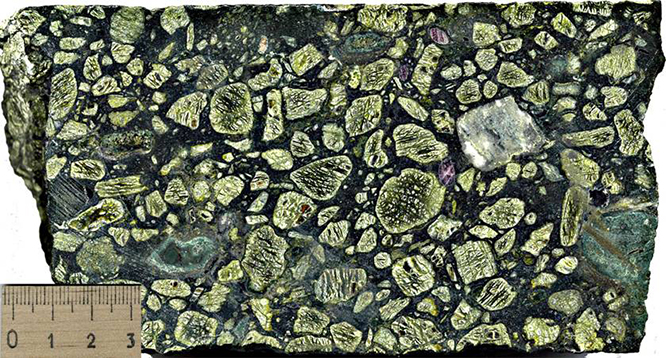 kimberlite breccia with macrocrysts of serpentinized olivine.
Sample kindly given to me by John Faithfull (Hunterian Museum London)
Bibliography
• E.M.W.Skinner (2009): Devolopments in Kimberlite emplacement theory. The SOllthern African Institute of Mining and Metallurgy Diamonds-Source to Use 2009
Photo

| | | |
| --- | --- | --- |
| Rounded olivine crystals and chromite crystals set in a groundmass composed by calcite. Bloemfontein (S.Africa). PPL image, 2x (Field of view = 7mm) | Rounded olivine crystals and chromite crystals set in a groundmass composed by calcite. Bloemfontein (S.Africa). XPL image, 2x (Field of view = 7mm) | Rounded olivine crystals and chromite crystals set in a groundmass composed by calcite. Bloemfontein (S.Africa). PPL image, 2x (Field of view = 7mm) |
| Rounded olivine crystals and chromite crystals set in a groundmass composed by calcite. Bloemfontein (S.Africa). XPL image, 2x (Field of view = 7mm) | Rounded olivine crystals and chromite crystals set in a groundmass composed by calcite. Bloemfontein (S.Africa). PPL image, 2x (Field of view = 7mm) | Rounded olivine crystals and chromite crystals set in a groundmass composed by calcite. Bloemfontein (S.Africa). XPL image, 2x (Field of view = 7mm) |
| Rounded olivine crystals and chromite crystals set in a groundmass composed by calcite. Bloemfontein (S.Africa). XPL image, 2x (Field of view = 7mm) | Rounded olivine crystals and chromite crystals set in a groundmass composed by calcite. Bloemfontein (S.Africa). PPL image, 2x (Field of view = 7mm) | Rounded olivine crystals and chromite crystals set in a groundmass composed by calcite. Bloemfontein (S.Africa). XPL image, 2x (Field of view = 7mm) |
| Rounded olivine crystals and chromite crystals set in a groundmass composed by calcite. Bloemfontein (S.Africa). XPL image, 2x (Field of view = 7mm) | Rounded olivine crystals and chromite crystals set in a groundmass composed by calcite. Bloemfontein (S.Africa). PPL image, 2x (Field of view = 7mm) | Rounded olivine crystals and chromite crystals set in a groundmass composed by calcite. Bloemfontein (S.Africa). XPL image, 2x (Field of view = 7mm) |
| Rounded olivine crystals and chromite crystals set in a groundmass composed by calcite. Bloemfontein (S.Africa). PPL image, 2x (Field of view = 7mm) | Rounded olivine crystals and chromite crystals set in a groundmass composed by calcite. Bloemfontein (S.Africa). XPL image, 2x (Field of view = 7mm) | Rounded olivine crystals and chromite crystals set in a groundmass composed by calcite. Bloemfontein (S.Africa). PPL image, 2x (Field of view = 7mm) |
| Rounded olivine crystals and chromite crystals set in a groundmass composed by calcite. Bloemfontein (S.Africa). XPL image, 2x (Field of view = 7mm) | Rounded olivine crystals and chromite crystals set in a groundmass composed by calcite. Bloemfontein (S.Africa). PPL image, 2x (Field of view = 7mm) | Rounded olivine crystals and chromite crystals set in a groundmass composed by calcite. Bloemfontein (S.Africa). PPL image, 2x (Field of view = 7mm) |
| Rounded olivine crystals and chromite crystals set in a groundmass composed by calcite. Bloemfontein (S.Africa). XPL image, 2x (Field of view = 7mm) | Rounded olivine crystals and chromite crystals set in a groundmass composed by calcite. Bloemfontein (S.Africa). XPL image, 2x (Field of view = 7mm) | Rounded olivine crystals and chromite crystals set in a groundmass composed by calcite. Bloemfontein (S.Africa). PPL image, 2x (Field of view = 7mm) |
| Rounded olivine crystals and chromite crystals set in a groundmass composed by calcite. Bloemfontein (S.Africa). XPL image, 2x (Field of view = 7mm) | Rounded olivine crystals and chromite crystals set in a groundmass composed by calcite. Bloemfontein (S.Africa). XPL image, 2x (Field of view = 7mm) | Rounded olivine crystals and chromite crystals set in a groundmass composed by calcite. Bloemfontein (S.Africa). XPL image, 2x (Field of view = 7mm) |
| Aligned, primary, calcite crystals. Bloemfontein (S.Africa). PPL image, 2x (Field of view = 7mm) | Aligned, primary, calcite crystals. Bloemfontein (S.Africa). XPL image, 2x (Field of view = 7mm) | Aligned, primary, calcite crystals. Bloemfontein (S.Africa). XPL image, 2x (Field of view = 7mm) |
| Rounded olivine crystals and chromite crystals set in a groundmass composed by calcite. Bloemfontein (S.Africa). PPL image, 2x (Field of view = 7mm) | Rounded olivine crystals and chromite crystals set in a groundmass composed by calcite. Bloemfontein (S.Africa). XPL image, 2x (Field of view = 7mm) | Rounded olivine crystals and chromite crystals set in a groundmass composed by calcite. Bloemfontein (S.Africa). PPL image, 2x (Field of view = 7mm) |
| Rounded olivine crystals and chromite crystals set in a groundmass composed by calcite. Bloemfontein (S.Africa). XPL image, 2x (Field of view = 7mm) | Rounded olivine crystals and chromite crystals set in a groundmass composed by calcite. Bloemfontein (S.Africa). PPL image, 2x (Field of view = 7mm) | Rounded olivine crystals and chromite crystals set in a groundmass composed by calcite. Bloemfontein (S.Africa). PPL image, 2x (Field of view = 7mm) |
| Rounded olivine crystals and chromite crystals set in a groundmass composed by calcite. Bloemfontein (S.Africa). XPL image, 2x (Field of view = 7mm) | Rounded olivine crystals and chromite crystals set in a groundmass composed by calcite. Bloemfontein (S.Africa). XPL image, 2x (Field of view = 7mm) | Rounded olivine crystals and chromite crystals set in a groundmass composed by calcite. Bloemfontein (S.Africa). XPL image, 2x (Field of view = 7mm) |
| Rounded olivine crystals and chromite crystals set in a groundmass composed by calcite. Bloemfontein (S.Africa). PPL image, 2x (Field of view = 7mm) | Rounded olivine crystals and chromite crystals set in a groundmass composed by calcite. Bloemfontein (S.Africa). PPL image, 2x (Field of view = 7mm) | Rounded olivine crystals and chromite crystals set in a groundmass composed by calcite. Bloemfontein (S.Africa). XPL image, 2x (Field of view = 7mm) |
| Rounded olivine crystals and chromite crystals set in a groundmass composed by calcite. Bloemfontein (S.Africa). PPL image, 2x (Field of view = 7mm) | Rounded olivine crystals and chromite crystals set in a groundmass composed by calcite. Bloemfontein (S.Africa). XPL image, 2x (Field of view = 7mm) | Rounded olivine crystals and chromite crystals set in a groundmass composed by calcite. Bloemfontein (S.Africa). XPL image, 2x (Field of view = 7mm) |
| Rounded olivine crystals and chromite crystals set in a groundmass composed by calcite. Bloemfontein (S.Africa). PPL image, 2x (Field of view = 7mm) | Rounded olivine crystals and chromite crystals set in a groundmass composed by calcite. Bloemfontein (S.Africa). XPL image, 2x (Field of view = 7mm) | Rounded olivine crystals and chromite crystals set in a groundmass composed by calcite. Bloemfontein (S.Africa). XPL image, 2x (Field of view = 7mm) |
| Rounded olivine crystals and chromite crystals set in a groundmass composed by calcite. Bloemfontein (S.Africa). PPL image, 2x (Field of view = 7mm) | Rounded olivine crystals and chromite crystals set in a groundmass composed by calcite. Bloemfontein (S.Africa). PPL image, 2x (Field of view = 7mm) | Rounded olivine crystals and chromite crystals set in a groundmass composed by calcite. Bloemfontein (S.Africa). PPL image, 2x (Field of view = 7mm) |