Olivine - (Fe,Mg)2SiO4
Olivine minerals constitute an isomorphous group of orthosilicates. Independent silicate tetrahedral, in layer parallel to (001), point alternately up and down along a, linking zigzag bands of edge-sharing MO6 octahedra (M = Metal atom) that extend along c. The metal cations occupy two different lattice positions, which may accommodate different cations.
Extensive solid solution exist between end-member compositions of the Olivine group when large cations ore of similar size (like Mg → Fe and Fe → Mn). The end-members of the olivine group are:
• Forsterite Mg
2
SiO
4
• Fayalite Fe
2
SiO
4
• Tephroite Mn
2
SiO
4
• Monticellite CaMgSiO
4
• Kirschteinite CaFeSiO
4
• Glaucochroite CaMn SiO
4
• Picrotephroite (Mg,Mn)
2
SiO
4
Complete solid solution exist between Forsterite and Fayalite to form the common Olivine, solid solution is also present between Fayalite and Tephroite, with Knebelite (Mn,Fe)2SiO4 as intermediate composition.
Alteration:
Olivine is highly subject to weathering, hydrothermal alteration, and metasomatic alteration. Alteretion product are often complex mixture of fine-grained minerals that are not distinguished by optical means. Some characteristic form of olivine alteration are:
•
Iddingsite and bowlingite
: Iddingsite and bowlingite alteration are most characteristic of oxidation, deuterici alteration or weathering. Iddingsite appears as reddish-brown replacement of olivine, along fracture, rims or complete replacement. Iddingsite may appears optically homogeneous , with high relief, and high interference colors. Bowlingite is a fine-grained aggregate containing smectite, goethite, chlorite, calcite, silica, talc.
•
Chlorophaeite
: Chlorophaeite alteration is also characteristic of volcanic or shallow intrusion, this fine-grained aggregate tend to be isotropic. Probably contain limonite, chlorite and serpentine.
•
Serpentine
: Serpentine alteration is common in plutonic or metamorphic rocks, it being along fracture, as the result of hydrothermal or deuteric processes and may completely convert olivine rocks in a serpentine rock, with a structure characteristic of the olivine fracture pattern ("mesh" structure).
Serpentine alteration can be described by the reaction:
2Mg
2
SiO
4
+ 3H
2
O = Mg
3
Si
2
O
5
(OH)
2
+ Mg(OH)
2
If CO
2
is present in the sistem:
2Mg
3
Si
2
O
5
(OH)
4
+ 3CO
2
= Mg
3
Si
4
O
10
(OH)
2
+ 3MgCO
3+
3H
2
O (serpentine + CO
2
= Magnesite + talc)
Olivine in the Earth mantle
With increases in pressure and temperatures the olivine structure is no longer stable (Fig.1). Below depths of about 410 km olivine transforms into wadsleyite and, at about 520 km depth, wadsleyite transforms into ringwoodite, which has the spinel structure. At 670 km depth, ringwoodite transforms into a perovskite structured phase (usually just called perovskite) and magnesiowustite (which is sometimes referred to as periclase). These phase transitions lead to a discontinuous increase in the density of the Earth's mantle that can be observed by seismic methods.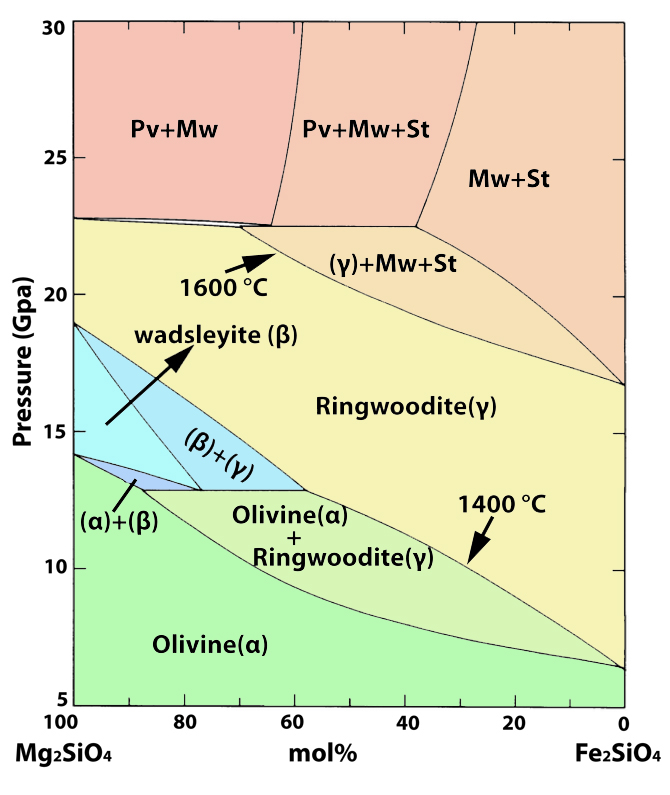 Fig.1: High-pressure phase relations in the system Mg2SiO4-Fe-2SiO4. α = Olivine; β = wadsleyite; γ = ringwoodite; Pv = perovskite; Mw = magnesiowŘstite; St = stishovite.
Optical Properties:
• Form: six sides circular section on (001), rectangular section on (010), six or eigth sides section elongated on c in (100) section.
• Relief: High.
• Color: colorless or pale green-yellow with increasing Fe.
• Interference colors: strong third order colors.
• cleavage: rather poor on (010) and (110).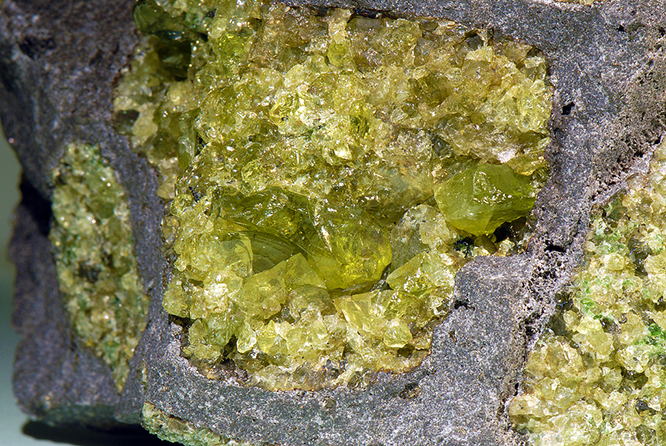 Dunitic Xenoliths in a basalto, San Carlos Indian Reservation, Arizona. From Natalie Teager, Arizona State University.
Well-shaped brown fayalite crystal. Bellerberg volcano, Germany. Photo by Volker Betz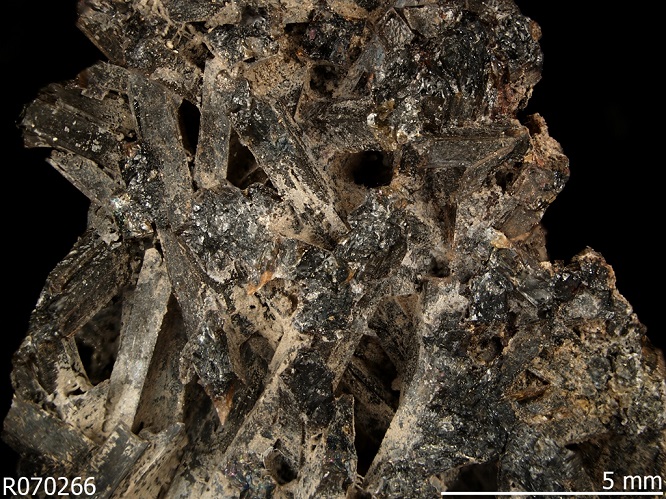 Brown kirschsteinite crystals. Dolores mine, Pastrana, Mazarrˇn, Murcia, Spain.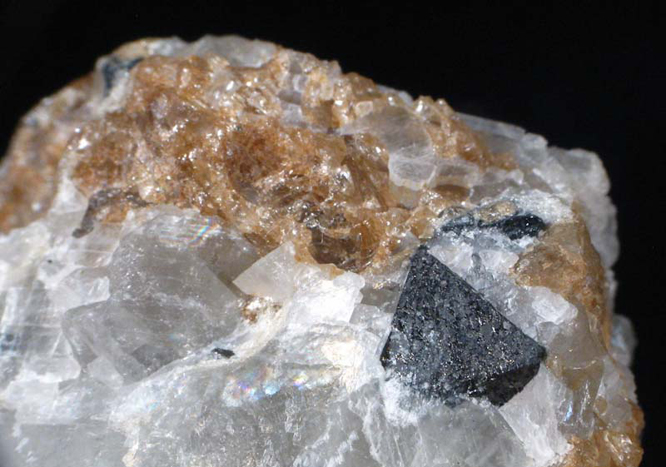 Brown monticellite crystals in a marble. Magnet Cove, Arkansas, USA.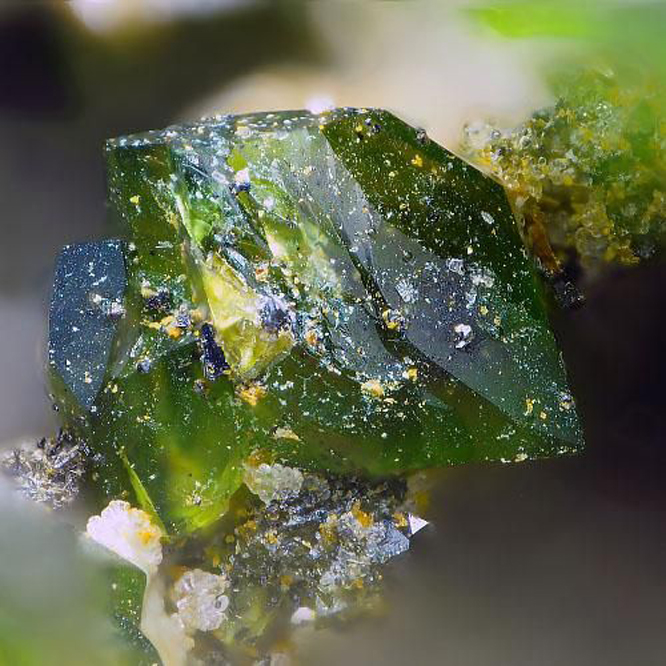 Emerald green Liebenbergite. Agios Konstantinos, Greece.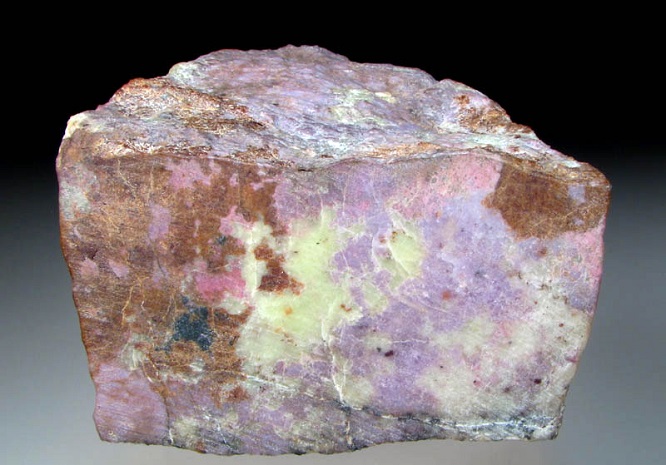 Massive and puple glaucochroite with green massive willemite. Franklin, New Jersey, USA.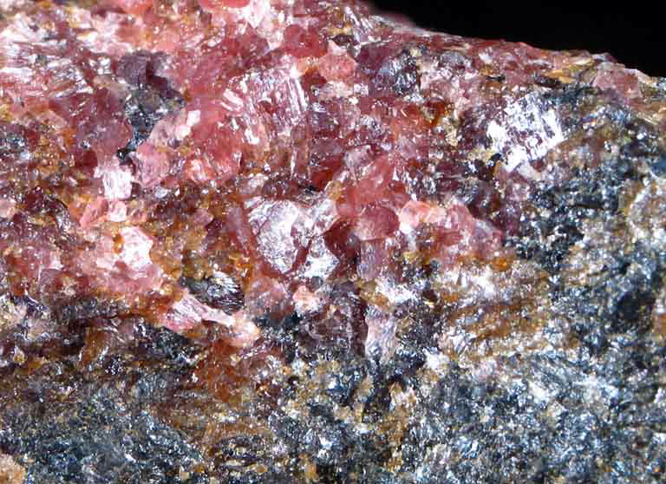 Puple tephroite crystals.
Bibliography
• Deer, W.A., Howie, R.A., Zussman, J. (1998) Rock-forming Minerals.
• Optical Mineralogy : The Nonopaque Minerals by Phillips / Griffen
• E. WM. Heinrich (1956): Microscopic Petrografy. Mcgraw-hill book company,inc
Photo

| | | |
| --- | --- | --- |
| Euhedral Olivine (100) section, Antarctica. XPL image , 10x (Field of view = 2mm) | Euhedral Olivine (100) section, Antarctica. XPL image , 10x (Field of view = 2mm) | Euhedral Olivine (100) section, Antarctica. XPL image , 10x (Field of view = 2mm) |
| Euhedral Olivine (100) section, Alicudi (aeolian islands). PPL image , 2x (Field of view = 7mm) | Euhedral Olivine (100) section, Alicudi (aeolian islands). XPL image , 2x (Field of view = 7mm) | Euhedral Olivine (100) section, Alicudi (aeolian islands). XPL image , 2x (Field of view = 7mm) |
| Olivine crystal in a basalt from Etna (Sicily). XPL image , 10x (Field of view = 2mm) | Olivine crystal in a basalt from Etna (Sicily). XPL image , 10x (Field of view = 2mm) | Olivine crystal in a basalt from Etna (Sicily). XPL image , 10x (Field of view = 2mm) |
| Olivine crystal in a basalt from Etna (Sicily). XPL image , 2x (Field of view = 7mm) | Olivine crystal in a basalt from Etna (Sicily). PPL image , 10x (Field of view = 2mm) | Olivine crystal in a basalt from Etna (Sicily). XPL image , 10x (Field of view = 2mm) |
| Euhedral Olivine (100) section, Alicudi (aeolian islands). PPL image , 10x (Field of view = 2mm) | Euhedral Olivine (100) section, Alicudi (aeolian islands). PPL image , 10x (Field of view = 2mm) | Olivine crystals. PPL image , 2x (Field of view = 7mm) |
| Olivine crystals. XPL image , 2x (Field of view = 7mm) | Olivine crystals. PPL image , 2x (Field of view = 7mm) | Euhedral Olivine (100) section. PPL image , 10x (Field of view = 2mm) |
| Euhedral Olivine (100) section. PPL image , 10x (Field of view = 2mm) | Olivine crystals. XPL image , 2x (Field of view = 7mm) | Olivine crystals. PPL image , 2x (Field of view = 7mm) |
| Olivine alterd by bowlingite. PPL image , 10x (Field of view = 2mm) | Olivine alterd by bowlingite. XPL image , 10x (Field of view = 2mm) | Euhedral Olivine (001) section. PPL image , 10x (Field of view = 2mm) |
| Euhedral Olivine (001) section. PPL image , 10x (Field of view = 2mm) | Olivine crystal. XPL image , 10x (Field of view = 2mm) | Olivine crystals in a basalt from Auerbach (Germany). XPL image , 2x (Field of view = 7mm) |
| Olivine crystals in a basalt from Auerbach (Germany). XPL image , 2x (Field of view = 7mm) | Olivine crystals in a basalt from Auerbach (Germany). XPL image , 2x (Field of view = 7mm) | Olivine crystals in a basalt from Auerbach (Germany). XPL image , 2x (Field of view = 7mm) |
| Rounded olivine crystals and chromite crystals set in a groundmass composed by calcite. Kimberlite from Bloemfontein (S.Africa). XPL image, 2x (Field of view = 7mm) | Rounded olivine crystals and chromite crystals set in a groundmass composed by calcite. Kimberlite from Bloemfontein (S.Africa). XPL image, 2x (Field of view = 7mm) | Rounded olivine crystals and chromite crystals set in a groundmass composed by calcite. Kimberlite from Bloemfontein (S.Africa). XPL image, 2x (Field of view = 7mm) |
| Rounded olivine crystals and chromite crystals set in a groundmass composed by calcite. Kimberlite from Bloemfontein (S.Africa). XPL image, 2x (Field of view = 7mm) | Rounded olivine crystals and chromite crystals set in a groundmass composed by calcite. Kimberlite from Bloemfontein (S.Africa). XPL image, 2x (Field of view = 7mm) | Rounded olivine crystals and chromite crystals set in a groundmass composed by calcite. Kimberlite from Bloemfontein (S.Africa). XPL image, 2x (Field of view = 7mm) |